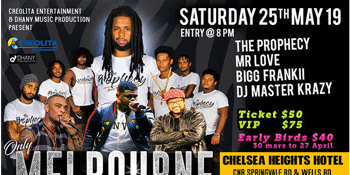 Creolita Entertainment & Dhany Music
The Prophecy, Mr Love, Bigg Frankii & DJ Master Krazy
Chelsea Heights Hotel (Chelsea Heights, VIC)
Saturday, 25 May 2019 8:00 PM
Heading to Australia is 2018 Best Album Winner The Prophecy who will be accompanied for the first time by his band.
Sticking to his heritage and bringing new character to the Mauritian music culture he has won the hearts of many with his soulful voice and powerful lyrics. The Prophecy is taking his form as rising star all the while still being humble, loyal and intellectual.

Celebrating 20 years in the Mauritian Music Industry is special guest Mr Love.
He has seen the change in the culture and uses his ability to adapt and grow with every year that passes. His mesmerizing songs that touch our hearts, you know he brings only 'LOVE.'

Up and coming superstar Bigg Frankii is reaching great heights with his career in music.
Bringing you the swag and young generation vibe that he is well known for - he is one to look out for.

Well known Mauritius DJ Master Krazy will be dropping the hottest beats that will be sure to get you on the dancefloor.
This will be a night you won't want to miss. So, come party with us and show some pure Mauritian love to our Stars!!