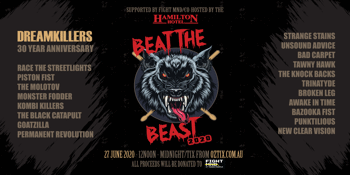 Supported by Fight MND & Co-hosted by Hamilton Hotel
CANCELLED - Beat the Beast
All proceeds will be donated to Fight MND.
Hamilton Hotel (Hamilton, QLD)
Saturday, 27 June 2020 12:00 PM
Don't miss out!!!
Come and enjoy 12 hours of nonstop original music from very talented and professional musicians. You will receive a night packed with amazing music to be witnessed & experienced!
20 Bands - 2 Stages
Midday to Midnight
Fundraiser details
"Beat the Beast" Fight MND Fundraiser Event is an Event that will bring a mixed blend of music to include Punk/Metal/Rock/Grunge tunes. All musicians are playing from the bottom of their hearts to help raise money for the Cause.
The Event is to raise much needed funds to donate to large-scale collaborative research, new drug development, clinical trials, and vital assistive equipment for Australians living with MND. Fight MND will donate raised money to the top MND Research Facilities in Australia in order to further our understanding of this insidious cruel Disease in hope of one day to "Beat the Beast".
Headliner
90's Punk Metal Band Dreamkillers are celebrating their 30 year Anniversary!
The tight well established internationally renowned Act are ready to bash out their well known & widely loved tunes. This will be a memorable night not to miss!
Please come along & help support this incredibly important Event!
**Please note Level 1 - 442 Kingsford Smith Drive - No lift or wheel chair access to top floor in venue. No disabled facilities on this level**