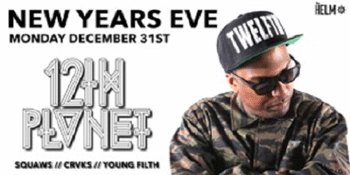 NYE AT THE HELM FT. 12TH PLANET
The Wharf Tavern, The Helm (Mooloolaba, QLD)
Monday, 31 December 2018 9:00 PM
NYE AT THE HELM FT. 12TH PLANET
Goodbye 2018 and Helloooooo 2019!
We are so stoked to have the King of Dubstep back at the Helm
to celebrate New Years Eve with us!! Last time was absolutely INSANE and this year is going to be even better!
He has played at Major Festivals such as Coachella, Electric Daisy Carnival, Ultra Music Festival and many more
and is well recognised across the globe and has
uniquely changed the name of EDM & constantly reels in massive crowds who always leave wanting more.
We have your Favourite Boy's on Support!
CRVKS
// SQUAWS // KENNY BEEPER
Doors 9pm - 5am
3 STAGES
🏼 2 LEVELS OF ENTERTAINMENT
LIVE BAND
🏼 RNB ROOM

OPEN UNTIL 5AM

GIVEAWAYS & PRIZES



http://

www.12thplanetofficial.com/


https://www.facebook.com/

12thplanet


https://soundcloud.com/

12thplanet