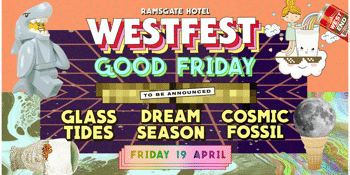 Westfest
Ramsgate Hotel (Henley Beach, SA)
Friday, 19 April 2019 3:00 pm
Ramsgate Hotel presents 'WESTFEST'!

Good Friday - Friday, 19th April

Celebrate everything great about the Western Suburbs… Red Tins, Henley Beach and Westie local bands! Kick it at the Ramsgates inaugural Good Friday WESTFEST from 3PM until late.

VENICE QUEENS - Following their inception in late 2017, last year saw Venice Queens support the likes of The Creases and Great Gable, as well as playing unprecedented sold-out headline shows in their hometown of Adelaide.In the wake of the release of their debut, self-titled EP, the band also embarked on their first tour of east coast Australia in August, playing multiple shows in both Sydney and Melbourne.

GLASS TIDES, a 4 piece rock outfit from Adelaide, have been gaining traction fast, since their formation in late 2017 and the release their first EP "Thoughts". With their first single "Forever" being released via YouTube channel "Dreambound", which has gained over 120,000 views already.

DREAM SEASON are a 5 piece Alternative/Rock band from Adelaide, Australia comprised of Jordan D'Sena (Vocals), Luke Stav (Guitar), Brandon Gould (Drums), Michael De Duonni (Guitar) and Liam Martin (Bass Guitar).
Dream Season released their debut EP 'Stalemate' in early 2018 and bring a mix of hard-hitting drums and heavy guitars, paired with catchy melodic vocals to create a unique sound that is one of a kind.
"The fire and ice in this track is nicely balanced. You'll have your arms splayed out and ready to soar with it." Dave Ruby Howe, Triple J

COSMIC FOSSIL - Born from surfy roots and blues these western suburbs Adelaidean rockers have developed their own unique style. Hard hitting & funky at times, bringing raw hip hop beats throughout their set.

TIX ON SALE NOW - all proceeds go towards supporting these great local acts!