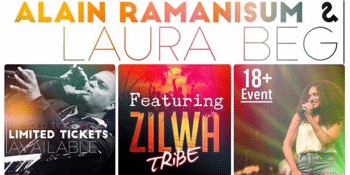 KND SOIREE EVENTS
ALAIN RAMANISUM & LAURA BEG AUSTRALIAN TOUR 2018
Zilwa Tribe
Chelsea Heights Hotel (Chelsea Heights, VIC)
Saturday, 24 November 2018 8:00 pm
Alain Ramanisum won the trophy of 'BEST MAURITIAN ARTIST' in the Indian Ocean and won the 'GOLD RECORD' in France in 2016 for his single "Li Tourner" ft. DJ Assad.
With more than 25 amazing years in the music industry, Alain Ramanisum spent a huge part of his career with well loved Mauritian Group 'Cassiya' before starting his solo career with his band 'Ravanna Roots'.
Laura Beg is the first Mauritian singer to participate on 'COKE Studio Africa' in 2017 as an African artist. She was determined at a very young age to make music her life and career choice. She became the backing vocal for 'Cassiya' and 'Alain Ramanisum' on several Albums since the year 2000.
Laura Beg has surely made her mark in the English, African and French music industry. The Mauritian singer, talented artist was voted 'Best Artist' and received the 'Gold Star' of Creolophonie in Australia by the Mauritian Diaspora.
After 'SOLD OUT' shows in MAURITIUS, REUNION, PARIS, LONDON and CANADA, you truly don't want to miss out on this 'One Show Only' in Melbourne.