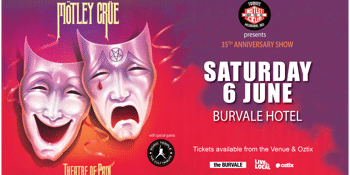 CANCELLED - Motley Crue Tribute :- Looks that Kill | Theatre of Pain Show
Burvale Hotel (Nunawading, VIC)
Saturday, 6 June 2020 8:00 pm
June 2020 marks the 35th Anniversary since the amazing 'Theatre of Pain' was released. It is only fitting that The Burvale Hotel show on June 6, 2020 featuring 'LOOKS THAT KILL' pays tribute to this iconic album recreating not only the sounds but the look of the era . . . . . . . .as well as adding some of the Crue's Greatest Hits. . . . . Hear your fav Crue songs from Theatre of Pain;- Smokin in the Boys Room, Home Sweet Home & Louder than Hell along with Girls Girls Girls, Shout at the Devil, Live Wire and more

Looks That Kill, is as accurate musically as much as theatrically, with the great ability to
re-create the sounds and mannerisms of the Bad Boys of Rock n Roll. This act provides a powerful, authentic sounding, fully costumed stage show that gets as close as possible to seeing the real Mötley Crüe.

Sonic Temple will smash out 'The Cults' Greatest Hits in support of this wonderful event . . . . Wild Flower, Lil Devil, Firewoman, Sweet Soul Sister, Love Removal Machine, Sun King and so much more !

Get your tickets now!