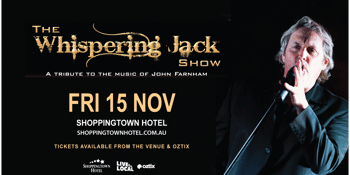 Whispering Jack
Shoppingtown Hotel (Doncaster, VIC)
Friday, 15 November 2019 8:00 PM
A tribute to the music of John Farnham
Featuring Australia's got talent performer
Mike Vee and his 6 piece band
Since appearing on Australia's got talent, Mike has travelled all over Australia performing his tribute to music of legend John Farnham. with great accolades.
His uncanny resemblance, the tone of his voice, his out going nature are so much like the real thing that people often ask him are you related,
A comment that is humbling to Mike. But at the same time recognition and credit to his performance.
Danni Monogue's comment on the show says it all. 'quote, "The closest I've ever heard to Farnham"
And the 1.6 million people that watched the show where also blown away
"I often get asked why" said Mike "how come you want to do this and the answer is simple, I love the music.

After performing in theatre for many years Mike decided to combine his love of acting and music together and create the Whispering Jack Tribute.
"I wanted the show to be a interactive event with the audience, not just a knock out the songs and hope the people like it type thing, but a special evening where people could be entertained not just buy the music but with a touch of comedy and history about John" as well. "It's a fun night" Mike added
With any tribute show you sometimes get the critics that want to pick a show apart. With Whispering jack Mike took the advice of his singing coach Lindsay Field and added his own interpretation to a lot of the material so that instead of just comparing the two people actually get a chance to acknowledge Mikes own true ability as one of Australia's finest voices.