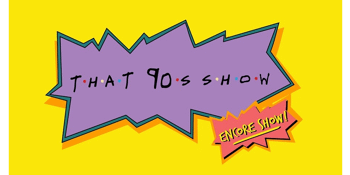 That 90's Show
Norwood Hotel (Norwood, SA)
Friday, 15 November 2019 8:00 pm
'That 90's Show' - South Australia's Leading '90s party band.
After an incredible SOLD OUT show in August at Norwood Live, we're back!
There were no plans for another 2019 show, but after
receiving
a humbling amount of messages, emails and comments asking when we would perform again, we've decided to bring you an ENCORE show - NOVEMBER 15th at Norwood Live.
Featuring a new setlist of 90's favourites spanning over a 3 hour show, with a live 7-piece band, paying tribute to the soundtrack of a decade which gave us bleached hair, Nintendo 64, The Lion King, Tamagotchis, and the Macarena, you're in for an epic night of partying!
Performing tunes from the most nostalgic bands and artists of the '90s - such as Alanis Morissette, The Offspring and Shania Twain through to the Backstreet Boys, Spice Girls, S Club 7 and everything in between to keep you partying, singing and dancing all night long. Complete with an overload of footage from all your favourite and forgotten movies, tv shows, cartoons, adverts and music clips, you will be in 90s nostalgia heaven.
Get ready to dig up your butterfly clips, grab your Nikes and put on your double denim, 'cause there ain't no party like a 90s party!