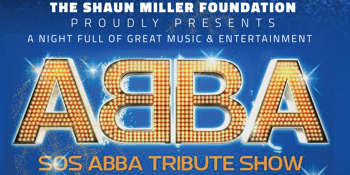 Shaun Miller Foundation
The Shaun Miller Foundation Presents - 'SOS' ABBA Tribute Show
Shoppingtown Hotel (Doncaster, VIC)
Saturday, 1 December 2018 6:00 PM
- The Shaun Miller Foundation Presents -

"ABBA" Tribute SOS
"BLACK EYED BRUISERS" - Easybeats and Stevie Wright Tribute
featuring SCOTT McRAE Star of E Street - Sea Patrol - Water Rats - All Saints TV Shows
"BRIEFCASE FULL OF BLUES" - 11 piece Blues Brothers Tribute Show
"THE LASH78 ROCK CHICKS"
The Shaun Miller Foundation story is of a young man who experienced an incredible and amazing journey with insurmountable joy, courage, hopes & dreams.
Shaun began his incredible New York Award winning book at 13 that has changed the lives of people all over the world and assists every day in countless childhood and teenage suicide prevention's.
A book that is now being made into an international Hollywood Movie in 2019.
Budding Actor in
"JACK & IRISH
" with Guy Pearce ABC Television
"NEIGHBORS
" Actor on Channel 10 Television, Dancer and Comedian, inspirational Public Speaker, Sportsman, Cricketer and talented Footballer, motivator for Garth Wood Australian professional boxer and winner of
"THE CONTENDER"
knock out victory against Anthony Mundine on December 8th 2010 at the Sydney Super Dome.
Nominated and winning the courage media Pride of Australia Award as Inspirational Teenager July 2012 but could not receive the honor due to passing away and therefore awarded to Melbourne footballer Jim Stynes.
Shaun's short but amazing life was filled with joy gratitude and powerful spiritual wisdom far beyond his years only the second Australian child in August of 2009 to receive two Heart Transplants since Fiona Cootes in 1986 who's life was saved by Dr Victor Chang 'Australian Of The Century' Pioneer of Heart Transplantation.
Shaun became a beacon of light courage and hope to other Heart Children all around the world and proudly embraced the important task of Heart Children Ambassador at the Royal Children's Hospital Melbourne Australia the only child in the hospitals history.
Working tirelessly on awareness, education and funding for the important research required to find the baffling cure of (CHD) Childhood Congenital Heart Disease
Continually on the internet, emails and telephone educating and helping
other kids and their Parents all around the world, Shaun would be there.
Whether it was someone who had just been diagnosed with CHD
someone who was waiting for a Transplant or just about to have a Heart Transplantation, Shaun's shared his amazing wisdom and beautiful gifts of hope and courage to all.
Childhood Congenital Heart Disease accounts for 30% of deaths
in Children under five all around the world every week 42 babies are born with CHD and a whopping 80% of all cases of CHD remain unsolved because Doctors have no idea what causes this deadly disease.
Shaun had spent too much of his life in 7 West at the Cardiac Koala Ward of R.C.H only to be diagnosed with Chronic Heart Rejection and passing away shortly after his seventeenth birthday.
Shaun's amazing wisdom and strength will leave footprints in your heart and challenge's us all to believe that our own lives are significant, important and truly beautiful.