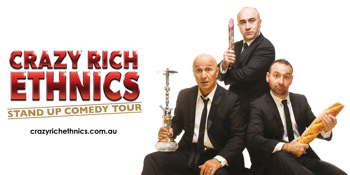 Crazy Rich Ethnics - Stand Up Comedy Tour
featuring Tahir, James Liotta and George Kapiniaris
Shoppingtown Hotel (Doncaster, VIC)
Friday, 6 November 2020 8:00 PM
THIS EVENT ON 23/05/2020 HAS BEEN RESCHEDULED TO 6/11/2020.

Here come the Crazy Rich Ethnics with their brand new all hilarious stand-up comedy show. There will be characters, music, audience fun and of course world-class stand-up comedy delivered by award-winning internationally renowned comedians.
The jam-packed show will include the original "wog" himself George Kapiniaris, who first co-created the "Ethnic Shows" and concepts and was the star of "Acropolis Now". George also has a huge body of work including a number of feature films, sit-coms, starring in musical theatre and is an award-winning actor and stand up comedian.
James Liotta is a performer on the rise. With over twenty years of experience, James has been involved in some of the biggest and most successful productions Australia has ever seen. He has a growing following on social media and his videos and characters are hugely popular. His characters are very memorable and relatable regardless of your background. James is a stunning performer with incredible energy and a stand-up comedian you should not miss in "Crazy Rich Ethnics"
TAHIR, makes up the third member of this killer show and lineup. Tahir has incredible credits including a number of feature films, sit-coms such as "Fat Pizza" and "Housos", co-created "Here Come The Habibs" and has appeared on countless shows, galas, panels and was most recently seen on "I'm a Celebrity Get Me Out Of Here". Tahir is a dynamic performer, logie winning actor and award winning stand up comedian who is not to be missed in Crazy Rich Ethnics..

(12-17 years to be accompanied by their parent/guardian)
Otherwise this is an 18+ Event