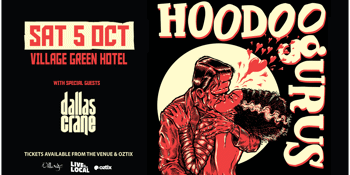 Hoodoo Gurus
Dallas Crane
Village Green Hotel (Mulgrave, VIC)
Saturday, 5 October 2019 8:00 pm
Like Wow. For three decades the Hoodoo Gurus have consistently been one of the most inventive, lyrically smart and goddamn exciting rock'n'roll bands Australia has ever produced. Oh yeah, and they've done it with style, panache and a wicked sense of humour. From Stoneage Romeos and Mars Needs Guitars through to Mach Schau and Purity of Essence the Gurus have a slew of hits and tunes that have resonated with both long term fans and a new generation alike.
Joining the Hoodoo Gurus in this rare, intimate, and only Melbourne rock show, are local darlings Dallas Crane.
Dallas Crane have become a not only a lauded constituent of the Australian rock 'n roll scene, but a trend-proof mainstay that continues to exhilarate audiences wherever they bloody well set foot!
Village - you are in for one hell of a night. Like Wow indeed!