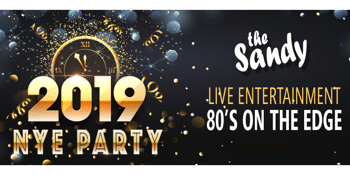 New Years Eve w/ 80's on the Edge
Sandringham Hotel (Sandringham, VIC)
Monday, 31 December 2018 6:00 pm
Join us here at The Sandy on New Years Eve and bring in 2019 in style, 80's Style.
Dinner and Show available from 6pm, or just come for the Show Only from 9pm. In either case, enjoy the panoramic bay views, cocktail specials and enjoy the band.
80's On The Edge stomp up a storm in their usual rad retro style, performing the best 80s (and 70s/90s) party tunes everrrr! - Sing along, dance along,we guarantee you won't sit still and you'll have a brilliant night.
Why wouldn't you?