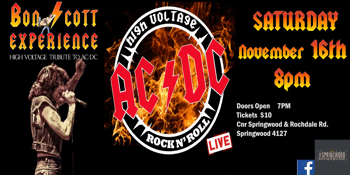 Bon Scott Experience
Springwood Hotel (Springwood, QLD)
Saturday, 16 November 2019 7:00 pm
High Voltage Tribute To AC/DC
Doors open 7pm | Show Start 8pm

Bon Scott Experiance is a Brisbane-Based, five-peice, professional rock show, showcasing the music of former AC/DC front man, Bon Scott. There goal from the outset is to bring a modern twist to a popular era in live pub rock music of the mid to late 70's. Classic hits like Dirty Deeds Done Dirt Cheap, Long Way To The Top, Highway To Hell, TNT, High Voltage, Let There Be Rock, Whole Lotta Rosies, Jailbreak and many more in a two hour showcase by some of the most talented and seasoned performers in the Brisbane Tribute Band scene. BSE is a high energy, high impact show, with one of a kind guitar cabinets, back drops, explosive props, period correct costuming, interactive videoing, clever staging and a great story to share.