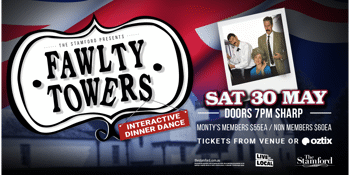 CANCELLED - Fawlty Towers - Dinner Dance
Stamford Inn (Rowville, VIC)
Saturday, 30 May 2020 7:00 pm
Created by John Cleese and Connie Booth the British television sitcom Fawlty Towers, broadcast on BBC in the 1970's spawned tens of millions of fans worldwide as they fell in love with the cast of Fawlty Towers. This show was ranked first on a list of the 100 Greatest British Television Programs drawn up by the British Film Institute in 2000.

Patrons dine and are entertained by Basil, Sybil and the Spanish waiter Manuel. You will experience the rude and put-upon owner Basil Fawlty, his bossy wife Sybil and the hapless and English-challenged Spanish waiter Manuel, showing their attempts to run the hotel amidst farcical situations and an array of demanding and eccentric guests!

Enjoy your experience even further and dance the night away with the fabulous sounds of The Baby Boomers Duo presenting classic hits from the 50's, 60's 70's & 80's. With fabulous vocal harmonies & musicianship penetrating their sets of classic hits & fun filled performances, The Baby Boomers Duo revisit musical history with classic tunes & tales from the 50's, 60's , 70's, & 80's!